MANAGING LEADERSHIP TRANSITION IN ETHIOPIA BY TURNING CHALLENGES OF YOUTH UNEMPLOYMENT INTO OPPORTUNITIES- A SYSTEMATIC LITERATURES REVIEW
Getnet Tilahun Taye

Management University of Africa
Abstract
Purpose of the study:  The main objective of the study was to identify possible remedies and make recommendations to turn the challenge of youth unemployment into an opportunity during the political transition period in Ethiopia.
Statement of the problem: In recent years, the influence of the youth on social, political and economic matters is rising in Ethiopia. The problem facing the youth such as unemployment, violence and addiction can have a snowball effect on the social, economic and political situations in the country. Due to this the government has to place a high priority in resolving problems that are facing the youth. Youth unemployment is among the top challenges that have to be addressed by policy makers in government. The youth has become an easy target to various interest groups in the country mainly due to unemployment making them readily available to accept or willing to be engaged in any agenda that comes in their way. In the past 2 years the country has seen ethnic conflicts as a result of political transition that were mainly driven by the youths. The ethnic conflicts and violence by the youth have caused a substantial damage on property and lives in the country.
Research methodology: A systematic literature review methodology was followed to make conclusions and recommendations.
Conclusions: The study concluded the prevalence of youth unemployment has become a serious concern for the stability of the country. The National centers to operate according to a set standard of operation procedure.
Recommendations: The main recommendation of the study was for the policy makers in government to prioritize and implement the establishment of National centres where perpetrators will be confined and given the opportunity to be more productive citizens by getting education. Vocational trainings and counselling centres are expected to change them into productive and law-abiding citizens. The National centers play the major role in this recommendation and the study further suggested the management of these centers to be based on a strict standard operation procedure.
Key Words: Ethiopia, Youth Unemployment, Leadership, Political Transition
References
Abbink, J. (2005). Vanguard or Vandals: youth, politics and conflict in Africa. Brill.

Abebe, T. (2020). Lost futures? Educated youth precarity and protests in the Oromia region, Ethiopia. Children's Geographies, 1(17).

Ayele, S., Khan, S., & Sumberg, J. (2017). Africa's youth employment challenge: New perspectives.

Ayelech, T.(2015). Living Wage Report: Non-Merropolitan Urban Ethiopia. Global living wage coalition

Aznar‐Sánchez, J., Galdeano‐Gómez, E., & Pérez‐Mesa, J. (2011). Intensive horticulture in Almería (Spain): A counterpoint to current European rural policy strategies. Journal of Agrarian Change, 11(2), 241-261.

Dai, J., & Dong, H. (2016). Farming and cultivation technologies of cotton in China. Cotton Research, 77(97).

FDRE (2004) Vagrancy Control Proclamation (No. 384/2004), Addis Ababa: Federal Democratic Republic of Ethiopia, https://chilot.me/200304-1996-e-c-proclamations/ (accessed 20 March 2017)

FDRE (2006) Youth Development Package, Addis Ababa: Federal Democratic Republic of Ethiopia, www.mysc.gov.et/youth.html (accessed 20 March 2017)

Honwana, A., & De Boeck, F. (2005). Makers & breakers: Children and youth in postcolonial Africa. James Currey.

HRW. (2020). World report: Ethiopia. https://www.hrw.org/world-report/2020/country-chapters/ethiopia

Islam, M., Rakib, M., & Adnan, A. (2016). Ready-made garments sector of Bangladesh: Its contribution and challenges towards development. Journal of Asian Development Studies, 5(2).

Justice policy institute. (2009). Cost of Confinement: Why Good Juvenile Justice Policies Make good Physical sense.

Rural migration News. (2018). California Farm Workers: FTE and Average Earnings in 2016. https://migration.ucdavis.edu/rmn/blog/post/?id=2176

Rutledge, Z., & Taylor, J. (2019). California Farmers Change Production Practices as the Farm Labor Supply Declines. ARE Update, 22(6).

S4YE. (2017). New and promising approaches in Youth Employment programs: the S4YE impact portfolio.

Satoh, M., & Aboulroos, S. (Eds.). (2017). Irrigated agriculture in Egypt: past, present and future. Springer.

Worqlul, A. W., Jeong, J., Dile, Y. T., Osorio, J., Schmitter, P., Gerik, T., ... & Clark, N. (2017). Assessing potential land suitable for surface irrigation using groundwater in Ethiopia. Applied Geography, 85, 1-13.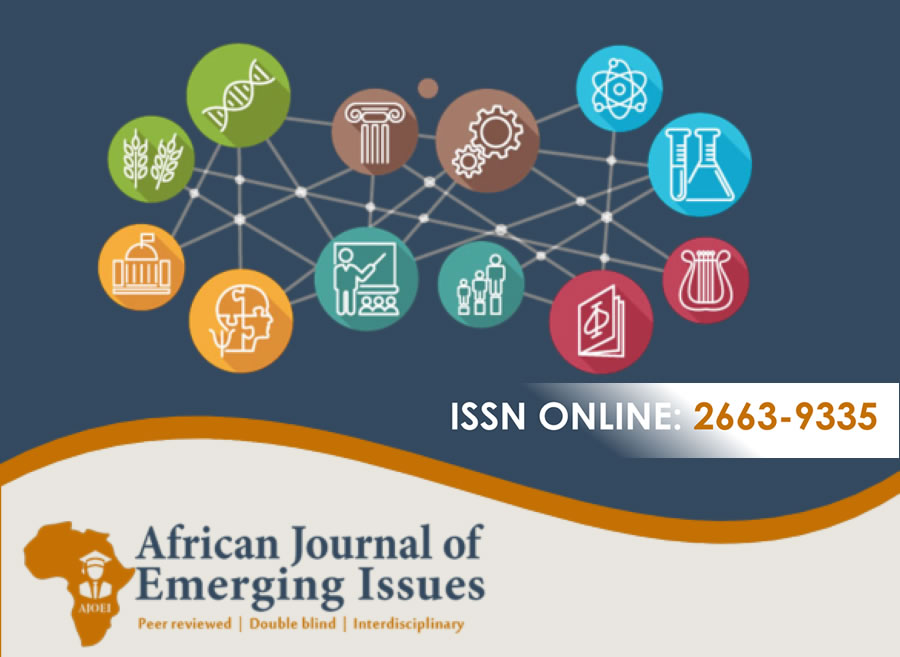 How to Cite
Taye, G. T. (2020). MANAGING LEADERSHIP TRANSITION IN ETHIOPIA BY TURNING CHALLENGES OF YOUTH UNEMPLOYMENT INTO OPPORTUNITIES- A SYSTEMATIC LITERATURES REVIEW. African Journal of Emerging Issues, 2(10), 29-37. Retrieved from https://ajoeijournals.org/sys/index.php/ajoei/article/view/132