MANDATORY SCHOOL UNIFORM POLICY AND STUDENTS' SCHOOL ATTENDANCE IN LANGATA SUB-COUNTY, NAIROBI-KENYA
Francis Kabia

The Catholic University of Eastern Africa

Shem Mwalw'a

The Catholic University of Eastern Africa

Catherine Machyo

The Catholic University of Eastern Africa
Abstract
Purpose of the Study: the influence of mandatory school uniform policy on students' attendance in Langata Sub-County secondary schools.
Statement of the Problem: Uniform has always been believed to have benefits include, improve academic performance, discipline, attendance, retention and most of all cement the gap between rich and the poor through the use of unified dress colour and styles. Upon these, the former President of Kenya made a mandatory school uniform policy pronouncement supported by the Nairobi Court on the use of the school uniforms. He called the students to dress appropriately, or else risk dismissal at the discretion of their teacher. This pronouncement infringed the fundamentals students' human right of freedom of participation and expression. Many students, parents, teachers and principal's complaint of indiscipline, misused of drugs and poor school performance in some schools in Kenya including Langata Sub-county secondary schools and the cost of school uniforms has escalated and become an added burden for parents and students yet not empirical study has been conducted to aid school authorities to remedy the situation.
Research Methodology: The study used mixed method research paradigms. Specifically, triangulation concurrent method of quantitative cross sectional and qualitative phenomenology research designs was used. The target population is 28,290 and the sample size of the study was 253 respondents obtained from principals 23, teachers 92, parents 46, and students 92. Questionnaires, interview guides and document analysis guide were the main tools for data collection. Data was analyzed by the use of Statistical Package for Social Sciences (SPSS) version 23, descriptive and inferential statistics such as, pie chart slices and regression analysis respectively. Qualitative data was analyzed by the use of content analysis techniques and thematic approach.
Results: The findings revealed that there was positive and significant relationship between mandatory school uniform policy and students' school attendance (β=0.864, p=0.000).
Conclusion: The study concluded that wearing school uniforms primarily serves to distinguish members/nonmembers, such distinction is very important in the school environment since the inclusion of students in the school environment is one of the essential conditions of their successful school attendance. The study concluded that mandatory school uniform policy in secondary schools in Langata Sub County positively and significantly influences students' attendance.
Recommendations: The study hence recommended that the managements of secondary schools in Langata Sub County should strive to enforce the law regarding school uniforms in their schools because school uniform has been found to improve attendance among students in secondary schools. Additionally, the government of Kenya through the ministry of education should put in place legislations guiding wearing of school uniform in all schools in Kenya whether public or private schools to avoid the unnecessary debates regarding mandatory school uniform in Kenya.
Keywords: Mandatory, Uniform, Policy, Attendance, Langata, Kenya.
References
Agarwal, D. (2015). Effects of School Uniform on Student's Achievement, Behaviour, and Attendance in Government School of Odisha: A Case Study of Sundergarh District. Retrieved on (26/03/2020) fromhttp://ethesis.nitrkl.ac.in/6743/1/Effects_Agarwal.

David, L. Rockquemore, Kerry, A. (2015). Effects of Student Uniforms on Attendance, Behavior Problems, Substance Use, and Academic Achievement." The Journal of Educational Research 92.1 (1998): 53-62. 31 March 2015.

Brunsma, David L. (2006). School uniform policies in public schools. Retrieved (10/10/2019) from https://www.naesp.org/sites/default/files/resources

Canter (2012). The effect of Canter's Assertive Discipline Program on teacher and student behaviour. Retrieved on 10th/11/2019 from nhttps://www.researchgate.net/publication/ _

Daily Nation Kenya (2018). Uniform just small part of schooling. Retrieved on (20th/12/2019) from https://www.nation.co.ke/oped/opinion/440808-4778918-

Department of Education, (2018). Guidance to schools on school uniform policy. Retrieved on (17th/09/2019) from https://www.educationni.gov.uk/sites/default/files/

Gentile & Elisabetta et al (2012). Dressed for Success? The Effect of School Uniforms on Student Achievement and Behaviour. Journal of Urban Economics, Elsevier, Vol. 71 (1) http://www.nber.org/papers/w17337.pdf. Retrieved on (17/08/2019).

Gentile, E. (2010). Dress for success? The Effect of School Uniforms on Students' Achievement and Behaviour. Retrieved on (26/02/2020) from https://www.utdallas.edu/research/tsp-erc/pdf/seminar_paper_imberman.pdf.

Gouge, W. E. (2011). A Comparison Research Study on the use of School Uniforms and
Graduation, Attendance, and Suspension rates in east Tennessee. Unpublished doctoral dissertation, Liberty University. Retrieved on (17th/08/2019)) from

Josephson, A, (2018). Pros and Cons of School Uniforms. Columbia Oxford.
Pennington, L. (2013). School Uniforms: Reinforcing Patriarchal Norms. Retrieved on (12th/11/2019) from https://www.huffingtonpost.co.uk/louise-pennington/school-uniforms-patriarchy.

Mirie, D. (2013). The Importance of School Uniforms-Education in Kenya. Retrieved on (12th/11/2019) from https://www.kenyaplex.com/resources/7811-the-importance-of-the-school- uniform.aspx

Mugenda, O. M., & Mugenda, A. G. (2012). Research Methods: Quantitative and Qualitative Approaches. Nairobi: Acts Press.

Muia, W.M. (2016). Influence of Social Media on Deviant Behaviours among Secondary School Students in Langata Sub-county, Nairobi County Kenya.

Gentile, E. & Scott, A.I. (2011). Dressed for Success? The Effect of School Uniforms on Student
Achievement and Behavior.1050 Massachusetts Avenue Cambridge, MA 02138.

Ngatia Muthoni & Evans David (2018). Do Free School Uniforms help Children Stay in Schools? Retrieved on (28/03/2020) from https://blogs.worldbank.org/nasikiliza/do-free-school-uniforms-help-children-stay-in-school.

Reed,J. B. (2011). Effect of a School Uniform Policy in an Urban School District. Retrieved on (24/02/2020) fromhttps://www.nmu.edu/sites/DrupalEducation/files/UserFiles/Files/Pre-Drupal/SiteSections/Students/GradPapers/Projects/Reed_Joshua_MP.pdf

Tan, S.K. (2013). Herzberg's Two-Factor Theory on Work Motivation: Does it Works for Today's Environment? Southern University College. Retrieved on (08/01/2020) from
https://www.researchgate.net/publication/262639924_Herzberg's_Two-Factor_.

UNICEF (2018) Situation Analysis of Children and Women in Kenya 2017, UNICEF, Nairobi, Kenya. Cover photo © UNICEF Kenya/2016/Noorani.
https://www.unicef.org/kenya/media/136/

White, K. A. (2000). Do School Uniforms Fit? School Administrator. 57(2), 36-40.

World Health Organization (2020). Covid-19 Public Services Announcement. Retrieved on 07/08/2020 from https://www.who.int.diseaseadv.

Wilde, M. (2018). Do Uniforms makes School Better? Retrieved on (12th/10/2019) from
https://www.greatschools.org/gk/articles/school-uniforms/.

Welsh Government, (2012). Guidance on School Attendance. Retrieved on (13th/10/2019) fromhttps://gov.wales/sites/default/files/publications/2018-03/guidance-on-school-attendance-codes.pdf.

Wambugu, J. & Mokoena, S. (2016). The Effect of Cost-sharing Policy on the Dropout Rates of Public Secondary School Students in Limuru District, Kenya. Journal of Asian and African Studies. Retrieved on (1st/10/2019) from

World Bank, (2014). The Problems of Uniforms in Kenya Schools-The Borgen. Retrieved on 10/10/2019 from https://borgenproject.org/problems-dressing-success-kenyan-school/.
http://citeseerx.ist.psu.edu/viewdoc/download?doi=10.1.1.664.350&rep=rep1&type=pdf.
http://journals.sagepub.com/doi/pdf/10.1177/0021909616630566
https://www.trustedclothes.com/blog/2016/08/08/ethical-school-uniforms/.

Admin (2016). Ethical School Uniforms. Retrieved on (12th/09/2019) from https://wikimili.com/en/Dress_code.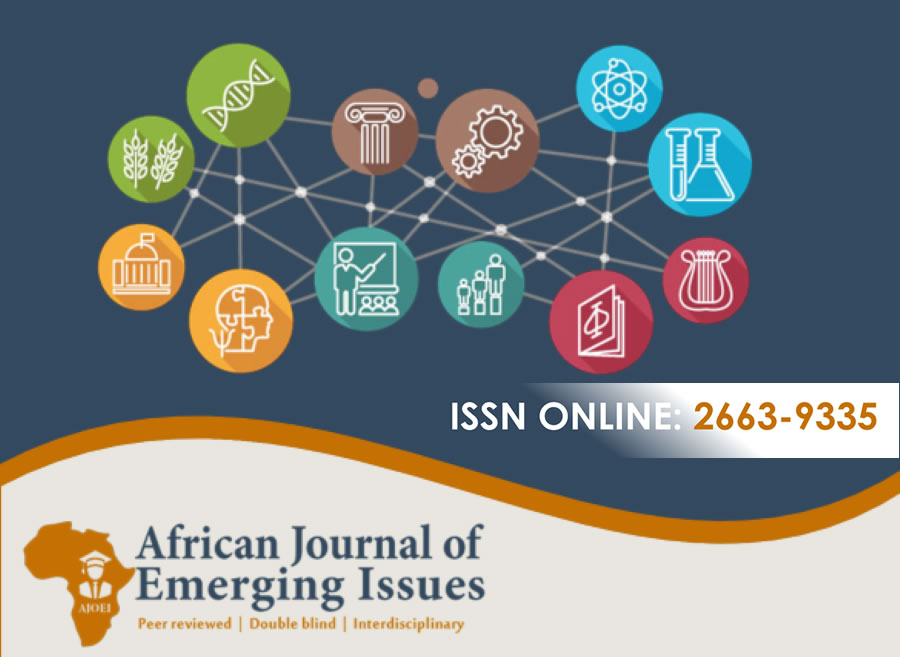 How to Cite
Kabia, F., Mwalw'a , S., & Machyo, C. (2020). MANDATORY SCHOOL UNIFORM POLICY AND STUDENTS' SCHOOL ATTENDANCE IN LANGATA SUB-COUNTY, NAIROBI-KENYA. African Journal of Emerging Issues, 2(12), 18-39. Retrieved from https://ajoeijournals.org/sys/index.php/ajoei/article/view/144