SOCIO ECONOMIC DETERMINANTS OF ALCOHOL CONSUMPTION IN KIHARU SUB COUNTY, MURAN'GA COUNTY, KENYA
Moffat N. Maina

St Paul's University, Kenya

Anthony Wando Odek

St Paul's University, Kenya

Nashon Vundi

St Paul's University, Kenya
Abstract
Purpose of the Study: Alcohol abuse is a persistent problem worldwide and its effects are felt most by households. Kiharu Sub County is one of the places that have recorded high incidents of alcohol abuse. It thus becomes necessary to investigate the causes that lead to this. The study therefore was aimed at investigating the Socio-economic determinants of alcohol consumption in the rural parts of the Kiharu sub county, Murang'a County. Specifically the study sought to: examine the effects of family income on consumption of alcohol in Kiharu Sub County; determine the effects of family social status on the consumption of alcohol in Kiharu Sub county; explain the effects of family social support system on alcohol consumption in Kiharu Sub county; investigate the interventions put in place to address the effects of alcohol consumption in Kiharu Sub County.
Statement of the Problem: Several studies have been conducted in this regard to understand the issue of alcoholism. However, many of these studies have not addressed the determinants of alcoholism from a social and economic perspective.
Methodology: The study adopted a Descriptive Research Design and had a sample size of 26,930 households residing in the Sub County. Using Krejcie and Morgan's   formulae, the study selected a total of 379 from the six wards that form the sub county. The study used stratified sampling, and purposive sampling to select the respondents from the six wards that make up the sub county. Further, the research employed snowball sampling to get those households of the families which were affected by the issue of alcoholism. Data was collected using both open ended and closed ended questionnaires. The Questionnaires were administered face-to-face to respondents by the researcher together with a trained research assistant. Quantitative data were analyzed using SPSS while Qualitative data from the questionnaires were analyzed through thematic and narrative analysis.
Result: Findings obtained from the respondents revealed that the determinants of alcoholism among families ranged from socialization, frustration and availability of alcohol at the disposal of many people in the Sub County. The study established that income levels, family social status as well as family social support influenced alcoholism in the sub county. The study also established that there were interventions at the community and government level aimed at addressing the issue of alcoholism; these included establishments of rehabilitation centers, offering social support to families that are affected by alcohol consumption as well as sensitization on the effects of alcohol consumption.
Conclusion: The youth ought to be guided appropriately by their parents regarding the prudent use of income as well as the spending habits. If these values are inculcated early in the youth, they will be entrenched in them.
Recommendation: Parents, church leaders, Social Workers and Public Administrators such as chiefs and sub chiefs be reinforced through empowering them to play an instrumental role in fighting the abuse of alcohol in Kiharu Sub County.
Keywords: Socio economic determinants, Family income, Family social status, Family social support system, Alcohol consumption, Kiharu Sub County.
References
Atwoli, Lukoye, Mungla, A. P. Ndung'u, N. M. Kinoti, C. K., & Mongot, E. (2011). Prevalence of substance use among college students in Eldoret, Western Kenya.

American Indian D.A Psychiatrist Association. (2013). Diagnostic and Statistical Manual of Mental Disorders 5 edition: Washington DC.

AIDA. (2000). Alcoholism and its effects: A Guide. New Jersey

Bandera, V. (1986). Alcohol Consumption and Lung Cancer. Cancer Epidemiology.
13:1

Bowen, M. (1985). Family and Marriage Therapy. New York: Buckingham, Open University Press.

Cherry, J. J. P. (2020). Relationship between Health Risk Behaviors and Obesity among American High School Students. Walden University.

Escandon, R. & Galvez,C. (2006). Free from Addictions. Madrid: Editorial safeliz.

Freeman, D and Parry. C (2006). Alcohol Consumption and non-communicable diseases. Epidemiology and Policy implications. Addiction Vol. 106:10.

Foxcroft, C. (2008). School-Based Programs to prevent and reduce use of alcohol among youth. NCBI

Githui Mathenge, D. (2011). Drinking culture and alcohol management in Kenya: An ethical perspective: less coalition National: Substance Abuse and Homelessness.

Hull, J and Bond, C. (2019). Social and Behavioral Consequences of alcoholism and Expectancy: A Meta-Analysis. Psychological Bulletin. 99:3

Jewkes, R, Martin. L & Penn-Kekana. (2002). Virgin Cleansing Myth Cases of Child Rape is not Exotic. The Lancet 359:711.

Jewkes,R.L. Penn-Kekana & Rose-Junius, H.(2006) .'if they Rape me, can't Blame them: Reflections on Gender in Social Context of Child and Women Rape in South Africa and Namibia Social Science &Medicine 61(8):1809-1820.

Jagero, N. Dr. & Mbulwa, F. (2014). Government and societal effort to address vulnerability leading to risks related to drug and substance abuse among female youth in Makindu, Kenya.

Justice. (2000). Promising Strategies to Reduce Substance Abuse.

Jellineck, E.M. (1960). The Disease Concept of Alcoholism. Hillhouse. New Haven

KingoriI. W. (2013). Influence of social economic factors and counseling on drug abuse among urban and rural secondary school in Laikipia Nakuru and Kericho Counties, Kenya (unpublished PhD thesis) Lakipia University.

Laslet, A. M. (2010). Conceptual and Methodological issues in Studying Alcohol's harm to others. Nordic Studies. SAGE Journals.

Lemstra, M. and Bennet, N. (2008). A Meta-analysis of Alcohol use by socio-economic status in adolescents. Public Health. 99:172.

Maithya, R. (2005). Drug Abuse in secondary schools in Kenya.

Masinde Wakhungu, J. (2013). University of Nairobi Department of Sociology and Social Work. Effects of illicit Brew Drinking and intervention measures on unemployment youth in Bungoma County Kenya.

Masiye, M. E. & Ndhlovu, J. A. (2013). Interview with the Official from the Ministry of SMEs. Bulawayo.

Melgoso, C. (2004). The daily stress and coping processes and alcohol use among college students. Studies on Alcohol 2004.

Montarat, T. (2009). The economic impact of alcohol consumption. A Systematic Review. Pub. Med National Library of Medicine.

Moodley S, Matjila M, &Moosa M. (2012).Epidemiology of substance use among secondary school learners in Atteridgeville, Gauteng. S Afr J Psychiatry. 2012; 18(1):2–7.

NACADA. (2008). Republic of Kenya office of the president. Department of international alcohol policy. Nairobi Kenya NACADA.

NACADA. (2010). Drug and substance abuse in tertiary Institutions in Kenya a situation analysis National Campaign against Drug Abuse. Nairobi Kenya situation analysis National Campaign against Drug Abuse. Nairobi Kenya.

Nguyen, N. (2011). Factors Influencing adolescent Alcohol and Marijuana use: The role of religiosity, school-Based prevention programs, parental influence and peer influence.

Njagi, M. (2014). Strategies used by secondary schools' principals to curb the effects of drug abuse on academic performance in Narumoru Division Nyeri county Kenya.

Osain, M. (2013). Culture of Alcohol Use; African Perspective.p03-228.cited
20thAugust 2014.

Olabisi, A (2006). Drinking Behavior and Social Change among youths in Nigeria.
Drug and Alcohol dependence. 20:21

Okwarah, P. O. (2017). Prevalence and Correlates of Alcohol use among underage High school Students in Murang'a and Kanjiando Countries, Kenya.

.Pamela, P. (2015). Alcohol Consumption and Risk of Morbidity and Mortality from stroke. BMC Public Health. Google scholar.

Sulliman, Needle, H. R.Kroeger, K.Belani, H., &Hegle, J (2005). The Injecting Drug Use And HIV/AIDS Nexus in The Republic of Mauritius. CRISA Publications. Sustainable Development Goals (2015).

Suzzane, H. (2013) .Alcohol use among American Indians and Alaska natives.
Amazon Pub

U.S. Department of Health and Human Services (2000) Special Report on Alcohol and Health.

UNFPA, (2005). State of the World's Population the Promise of Equality, Gender Equity, Reproductive Health and the Millennium Development Goals.

Warner, L.A (2014). Longitudinal effects of age at onset and first drinking situation on problem drinking. Substance Misuse.

Wenar.C.&Kerig .P.(2006). Developmental Psychopathology.Boston: Mc Graw Hill.

WHO, (2012). Impact of Drugs and Crime on Development. Research and trend Analysis: Vienna

Winstrock, F. (2014) Country Levels of effects of drinking: An international comparison of 25 countries. Research gate. Drug and Alcohol Review.

Werner, J. M. (2014). Adolescent substance abuse. Risk factors and preventions strategies, Maternal and child health Technical information Bulletin.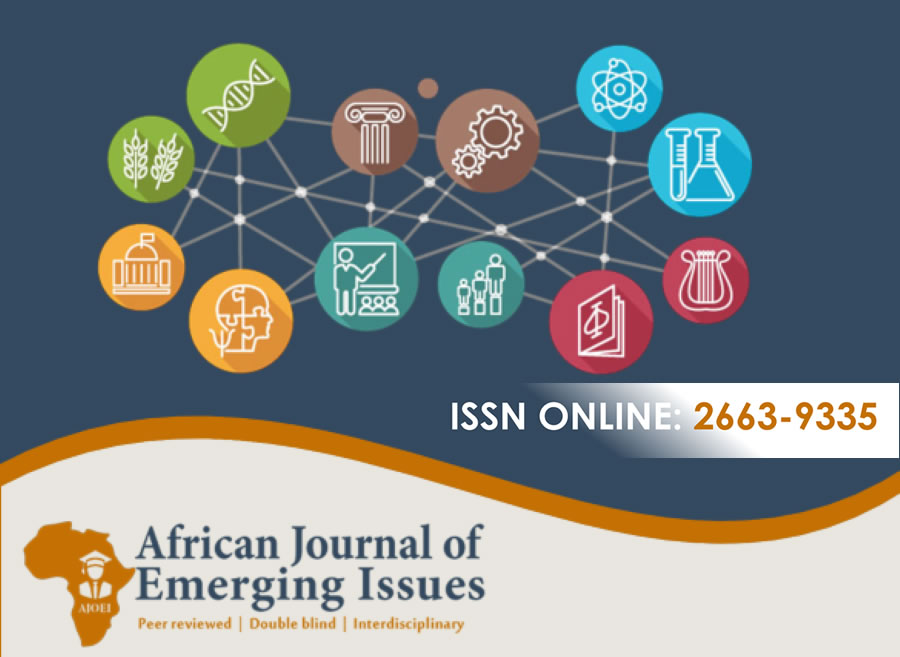 How to Cite
Maina, M. N., Odek , A. W., & Vundi , N. (2021). SOCIO ECONOMIC DETERMINANTS OF ALCOHOL CONSUMPTION IN KIHARU SUB COUNTY, MURAN'GA COUNTY, KENYA. African Journal of Emerging Issues, 3(8), 99 - 116. Retrieved from https://ajoeijournals.org/sys/index.php/ajoei/article/view/227