RELATIONSHIP BETWEEN MARKETING INFORMATION SYSTEM AND PERFORMANCE OF SMES IN MALAYSIA
Abdul Anshari Theodosiou

Universiti Sains Malaysia

Mohamed Akmal Beheshti

Universiti Sains Malaysia
Abstract
Purpose of the study: The study sought to examine the relationship between marketing information systems and the performance of SMEs In Malaysia
Statement of the problem: The performance of the SMEs in Malaysian has not been much effective. Some of the SMEs have liquidated their operations due to low sales. It was noted that around 65% of the SMEs cease operations before three years in operations. Thus, the study sought to investigate the reason behind the majority of the SMEs not surviving for long. Therefore, the study examined the relationship between marketing information systems and the performance of SMEs in Malaysia.
Research Methodology: The study was literature-based. The inferences of the study were based on the findings from the preceding studies.
Research Findings: It was found that the marketing information system has a positive effect on the performance of SMEs in Malaysia. The study indicated that a marketing information system is a management information system designed to support marketing decision making. Marketing information system plays an essential duty in increasing the efficiency of financial performance to the business in highly competitive markets through providing the needed information for the different administrative levels.
Conclusion: It was concluded that the marketing information system is potent in ensuring the performance is enhanced among the SMEs. The marketing information system is essential in increasing sales and firms can use various techniques, networks, and approaches to promote their products. The study further concluded that companies with reliable and efficient advertising and marketing details systems tend to create competitive items that will fulfill existing and potential buyers' demands in the market, thus more sales.
Recommendations: The study recommended that SMEs should enhance the use of marketing information systems. The marketing details system allows the organization to evaluate the market correctly and acquire details needed to critically examine its possibilities and select its target audience to make most of its profit.
Keywords: Marketing information system, performance, SMEs, Malaysia
References
Adeoti, J. O., Olawale, Y. A., & Abolarinwa, O. O. (2017). Impact of Marketing Information System on Product Performance in Nigerian Bottling Company Limited. KIU Journal of Social Sciences, 2(2), 221-236.
Agarwal, S., Erramilli, M. K., & Dev, C. S. (2019). Market orientation and performance in service firms: role of innovation. Journal of services marketing.
Alejandro, J. (2018). Journalism in the age of social media. Reuters Institute Fellowship Paper, 5, 1-47.
Alhadid, Y., Al-Zu'bi, H., & Samer, B. (2020). The relationship between marketing information system and gaining competitive advantage in the banking sector in Jordan. European Journal of Scientific Research, 128(1), 35-44.
Anshari, M., Almunawar, M. N., Lim, S. A., & Al-Mudimigh, A. (2019). Customer relationship management and big data enabled: Personalization & customization of services. Journal of Applied Computing and Informatics, 15(2), 94-101.
Bartlett, C. A., & Ghoshal, S. (2019). Building competitive advantage through people. MIT Sloan management review, 43(2), 34.
Beheshti, H. M. (2018). What managers should know about ERP/ERP II. Management Research News.
Bossetta, M. (2018). The digital architectures of social media: Comparing political campaigning on Facebook, Twitter, Instagram, and Snapchat in the 2018 US election. Journal of Journalism & mass communication quarterly, 95(2), 471-496.
Bresnahan, T., Gambardella, A., & Saxenian, A. (2021). 'Old economy'inputs for 'new economy'outcomes: Cluster formation in the new Silicon Valleys. Journal of Industrial and corporate change, 10(4), 835-860.
Buhalis, D. (2020). Marketing the competitive destination of the future. Journal of Tourism management, 21(1), 97-116.
Calvano, E., & Polo, M. (2021). Market power, competition and innovation in digital markets: A survey. Journal of Information Economics and Policy, 54, 100853.
Chen, I. J., & Popovich, K. (2018). Understanding customer relationship management (CRM): People, process and technology. Business process management journal.
Davenport, T. H., & Short, J. E. (2018). The new industrial engineering: information technology and business process redesign.
Graesch, J. P., Hensel-Börner, S., & Henseler, J. (2020). Information technology and marketing: an important partnership for decades. Journal of Industrial Management & Data Systems.
Hammer, M., & Stanton, S. (2019). How process enterprises really work. Harvard business review, 77, 108-120.
Harmon, R. R. (2021). Marketing Information Systems. Encyclopedia of information systems, 3, 137-151.
Hess, R. L., Rubin, R. S., & West Jr, L. A. (2017). Geographic information systems as a marketing information system technology. Decision Support Systems, 38(2), 197-212.
Hopkins, J. (2019). Communication, Culture, and Governance in Asia|"We Connect With People Through Stories": Gender and Affective Labor in Momblogging. International Journal of Communication, 13, 20.
Jüttner, U., Christopher, M., & Baker, S. (2021). Demand chain management-integrating marketing and supply chain management. Journal of Industrial marketing management, 36(3), 377-392.
Ketchen Jr, D. J., & Hult, G. T. M. (2018). Bridging organization theory and supply chain management: The case of best value supply chains. Journal of operations management, 25(2), 573-580.
Leonidou, L. C., & Theodosiou, M. (2021). The export marketing information system: an integration of the extant knowledge. Journal of World Business, 39(1), 12-36.
Levin, D., & Arafeh, S. (2020). The digital disconnect: The widening gap between Internet-savvy students and their schools.
Loo, M. K. L. (2019). Enhancing Financial Inclusion in ASEAN: Identifying the Best Growth Markets for Fintech. Journal of Risk and Financial Management, 12(4), 181.
Monday, A. J. (2018). The role of information in marketing decision. International Journal of Public Administration and Management Research, 2(3), 109-121.
Novak, T. P., Hoffman, D. L., & Yung, Y. F. (2020). Measuring the customer experience in online environments: A structural modeling approach. Journal of Marketing science, 19(1), 22-42.
Rad, A. H. S., Massafi, S., & Tak, F. R. (2019). Role of informational systems on marketing. Kuwait Chapter of the Arabian Journal of Business and Management Review, 2(5), 143.
Sääksjärvi, M. V., & Talvinen, J. M. (2018). Integration and effectiveness of marketing information systems. European Journal of marketing, 27(1), 64-80.
Siddiqui, M. S., & Alam, A. (2017). A Study on Factors Affecting Purchase Decision Based On Awareness, Affordability, Adoptability And Availability In Reference To Hul And Fmcg Companies In Rural India.
Slater, S. F., & Narver, J. C. (2018). Market orientation, customer value, and superior performance. Business horizons, 37(2), 22-28.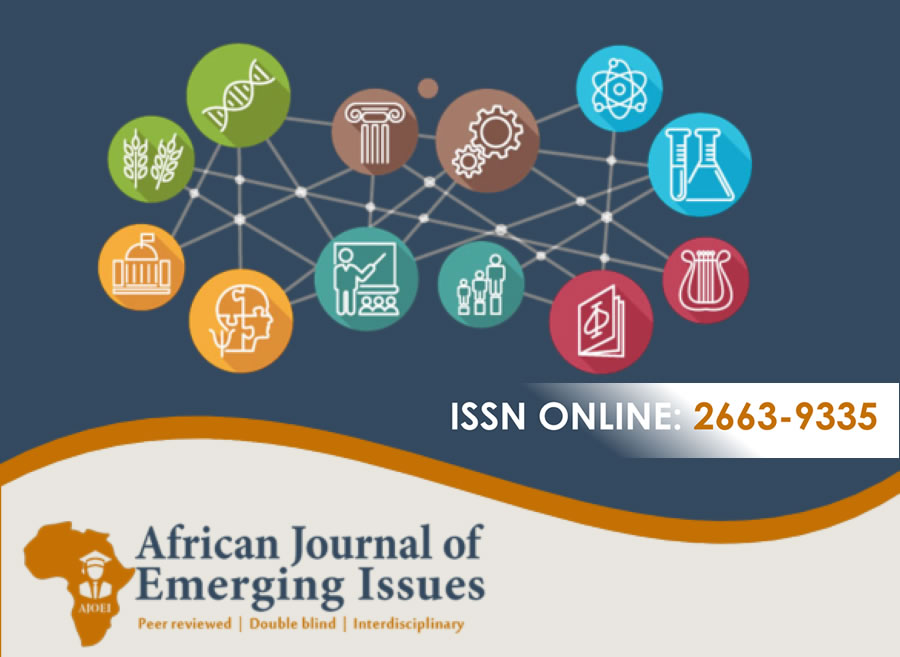 How to Cite
Theodosiou , A. A., & Beheshti, M. A. (2021). RELATIONSHIP BETWEEN MARKETING INFORMATION SYSTEM AND PERFORMANCE OF SMES IN MALAYSIA. African Journal of Emerging Issues, 3(10), 15-24. Retrieved from https://ajoeijournals.org/sys/index.php/ajoei/article/view/238