STANDARDS OF PRACTICE, RISK ASSESSMENT, AND SAFETY CONCERNS IN OUTDOOR ADVENTURE PROGRAMMES IN THE AFRO-ALPINE MOUNTAINS OF EAST AFRICA
Dr. Lucy-Joy Wachira

Kenyatta University

Nkatha Muthomi

Kenyatta University

Shikuku Ooko

Janam Peace Building Foundation
Abstract
Background: Adventure is inevitably linked to risk of injuries and fatalities hence the numerous safety concerns in the outdoor adventure industry. This study investigated the safety concerns, risk management and standards of practice especially when preparing for and handling emergencies and incidents in the East African Afro-Alpine Mountain regions of Mt. Kenya, Rwenzori Mountains and Mt. Kilimanjaro.
Methodology: The study employed a qualitatively-driven mixed-method research design to allow triangulation of data captured from different methods and categories of respondents and data sources. The study conducted Focus Group Discussions with a sample of 105 outdoor practitioners and In-depth Key Informant Interviews with 12 participants. The study also recruited 18 institutions' representatives to complete the self-report questionnaires.
Results of the study: Generally, there were positive reports indicating compliance to safety standard and procedures and mitigating efforts towards minimizing effects of risks. The safety concerns reported included poor emergency response practices, inadequate number of rescue rangers on the mountains, lack of/very basic training of outdoor practitioners, lack of, inadequate or use of improper mountaineering gear and equipment, lack of regulation and legislations concerning safety related issues on the mountains, deplorable conditions for porters, poor visitor education and lack of risk assessment activities in most programmes and events. For the institutions, there was higher compliance for procedures related to management systems, staffing and execution of outdoor programme activities than for emergency procedures logistics.
Conclusion and policy recommendation: In many settings, there is lack of specific guidelines or locally adopted and documented safety standards of practice hence operators and practitioners which can lead to 'guess work' in many situations. The institutions, agencies and operators should embark on efforts to sensitize, educate and train practitioners in risk assessment and safe practices. This should be based on established local standards and best practice worldwide to empower the practitioners in performing their duties.
Keywords: Outdoor adventure, Standards of practice, Risk assessment, Safety concerns, East Africa
References
UNESCO. (2016). World Heritage List. Retrieved from whc.enesco.org/en/list

Ewart, A. (1989). Outdoor adventure pursuits: Foundations, models, and theories. Columbus, OH: Publishing Horizons.

Walle, A. (1997). Pursuing risk or insight marketing adventures. Annals of Tourism Research, 24(2), 265-282. doi:10.1016/s0160-7383(97)80001-1

Goldenberg, M. (2001). Outdoor and Risk Educational Practices.

Swarbrooke, J., Beard, C., Leckie, S. and Pomfret, G. (2003). Adventure Tourism. The new frontier, Oxford: Elsevier Science Ltd. https://doi.org/10.1016/B978-0-7506-5186-8.50007-6

Kale, R. M., & Anholm J. D. (2015). Altitude-Related Disorders. Retrieved from https://emedicine.medscape.com/article/303571-overview#showall

Curtis R. (2018). OA Guide to Designing a Safety Management Program for an Outdoor Organization. Princeton University. Outdoor Action Guide to Developing a Safety Management Program for an Outdoor Organization, Outdoor Action Program, The Trustees of Princeton University.

Fuller, C. and Drawer, S. (2004). The Application of Risk Management in Sport, Sports Medicine, Vol. 34, No. 6, pp. 349-356. https://doi.org/10.2165/00007256-200434060-00001

Hogan R. (2002). The Crux Of Risk Management In Outdoor Programs – Minimizing The Possibility Of Death And Disabling Injury Australian Journal of Outdoor Education - Vol 6 No. 2. https://doi.org/10.1007/BF03400758

Connaughton, D. (2002) Providing a Safe Environment, Fahperd Journal, Vol. 40, No. 1, pp. 15.

Appenzeller, H. (1998) Risk Management in Sport: Issues and Strategies, USA: Carolina Academic Press.

Mountain Safety Council. (2018). New Zealand National Incident Database (NID) retrieved from https://www.incidentreport.org.nz/

Laerd Statistics. (2016). Somers' d using SPSS Statistics. Statistical tutorials and software guides. Retrieved from https://statistics.laerd.com/

Outdoor council of Australia, (2020). Australian Adventure Activity Standards http://www.outdoorcouncil.asn.au/australian-adventure-standards/ RETRIEVED 10TH JUNE 2020

Mountain Training UK (2014). National Guidelines For Climbing and Walking Leaders 5th edition. Mountain Training UK, www.mountain-training.org

AEE (2018). Association for Experiential Education Manual of Accreditation Standards for Adventure Programs, 7th edition https://www.aee.org/manualof-accreditation-standards-for-adventure-programs RETRIEVED 10TH JUNE 2020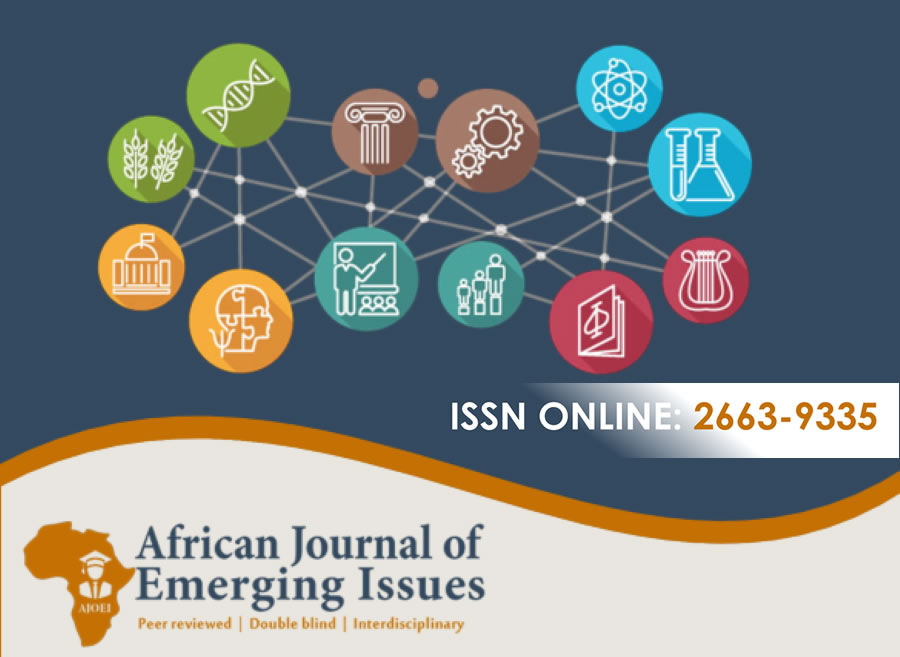 How to Cite
Wachira, L.-J., Muthomi, N., & Ooko, S. (2022). STANDARDS OF PRACTICE, RISK ASSESSMENT, AND SAFETY CONCERNS IN OUTDOOR ADVENTURE PROGRAMMES IN THE AFRO-ALPINE MOUNTAINS OF EAST AFRICA. African Journal of Emerging Issues, 4(3), 98 - 118. Retrieved from https://ajoeijournals.org/sys/index.php/ajoei/article/view/271