IMPACT OF FINANCIAL TECHNOLOGY (FINTECH) ON FINANCIAL PERFORMANCE OF MICRO FINANCE INSTITUTIONS IN BAHRAIN.
Ahmed Al-Musallam Chuc

University of Bahrain

Ahmed Abdulwahed Atayah

University of Bahrain

Salman Qarata Özer

University of Bahrain
Abstract
Purpose of the Study: The study sought to explore the Impact of Financial Technology (Fintech) on Financial Performance of Micro Finance Institutions in Bahrain.
Statement of the Problem: The primary objective of this study is to investigate the influence of Financial Technology (Fintech) adoption on the financial performance of Micro Finance Institutions in Bahrain. Specifically, the research aims to assess the extent to which Fintech solutions, such as digital lending and mobile banking, affect key financial indicators, such as profitability and operational efficiency, within the microfinance sector in Bahrain.
Methodology: The study was literature based. The study collected and analyzed existing research and publications to inferences.
Findings: The introduction of Financial Technology (Fintech) in Bahrain's Micro Finance Institutions (MFIs) has significantly enhanced operational efficiency, reducing costs and expediting loan processing. The automation and digitalization of financial services have led to lower overhead expenses, resulting in improved financial performance for MFIs. Fintech adoption has strengthened risk mitigation strategies within MFIs, with advanced risk assessment models enabling more accurate lending decisions. As a result, default rates and non-performing loan ratios have decreased, contributing to the financial stability of these institutions. The findings also emphasize the positive impact of Fintech on customer satisfaction and trust, with 24/7 services, mobile apps, and online banking creating a more convenient and accessible experience. Strong customer relationships are pivotal for attracting and retaining clients, ultimately benefiting the long-term financial performance of MFIs.
Conclusion: In conclusion, the impact of Financial Technology (Fintech) on the financial performance of Microfinance Institutions (MFIs) in Bahrain has been overwhelmingly positive. Fintech has facilitated improved operational efficiency, risk mitigation, and customer satisfaction, all of which have directly contributed to the enhanced financial stability and profitability of these institutions. To sustain and maximize these gains, MFIs must continue to embrace Fintech innovation, prioritize regulatory compliance, and invest in cybersecurity, ensuring that they remain well-positioned to serve their clients and adapt to the ever-evolving financial landscape in Bahrain.
Recommendations: Micro Finance Institutions (MFIs) in Bahrain should consider diversifying their Fintech offerings to meet a wider range of customer needs, expanding beyond traditional microloans to services like digital payments, savings, and insurance, which can increase revenue streams and improve financial performance. MFIs should actively engage in partnerships and collaborations within the Fintech ecosystem, including fintech startups, tech companies, and regulatory authorities, to stay at the forefront of technological advancements and regulatory compliance, enabling them to leverage Fintech to its fullest potential for long-term financial success.
Keywords: Financial Technology, Financial Performance, Micro Finance Institutions, Bahrain
References
Albarrak, M. S., & Alokley, S. A. (2021). FinTech: ecosystem, opportunities and challenges in Saudi Arabia. Journal of Risk and Financial Management, 14(10), 460.

Baker, H., Kaddumi, T. A., Nassar, M. D., & Muqattash, R. S. (2023). Impact of Financial Technology on Improvement of Banks' Financial Performance. Journal of Risk and Financial Management, 16(4), 230.

Baur-Yazbeck, S., Frickenstein, J., & Medine, D. (2019). Cyber Security in Financial Sector Development. CGAP Background Documents, 5(2).

Benami, E., & Carter, M. R. (2021). Can digital technologies reshape rural microfinance? Implications for savings, credit, & insurance. Applied Economic Perspectives and Policy, 43(4), 1196-1220.

Dhiaf, M. M., Khakan, N., Atayah, O. F., Marashdeh, H., & El Khoury, R. (2022). The role of FinTech for manufacturing efficiency and financial performance: In the era of industry 4.0. Journal of Decision Systems, 1-22.

Kumari, A., & Devi, N. C. (2022). The impact of fintech and blockchain technologies on banking and financial services. Technology Innovation Management Review, 12(1/2).

Le, T. H., Chuc, A. T., & Taghizadeh-Hesary, F. (2019). Financial inclusion and its impact on financial efficiency and sustainability: Empirical evidence from Asia. Borsa Istanbul Review, 19(4), 310-322.

Mia, M. A., Dalla Pellegrina, L., & Wong, W. Y. (2022). Female participation and financial performance of microfinance institutions: Evidence from transition economies. Development Policy Review, 40(5), e12602.

Moin, C. M., & Kraiwanit, T. (2023). Digital Improvements to Microfinance in Bangladesh. International Research E-Journal on Business and Economics, 8(1), 1-7.

Moro-Visconti, R. (2021). MicroFinTech: expanding financial inclusion with cost-cutting innovation. Springer Nature.

Musabegovic, I., Özer, M., Djukovic, S., & Jovanovic, S. (2019). Influence of financial technology (FinTech) on financial industry. Економика пољопривреде, 66(4), 1003-1021.

Nguyen, Q. K. (2022). The effect of FinTech development on financial stability in an emerging market: The role of market discipline. Research in Globalization, 5, 100105.

Preziuso, M., Koefer, F., & Ehrenhard, M. (2023). Open banking and inclusive finance in the European Union: perspectives from the Dutch stakeholder ecosystem. Financial Innovation, 9(1), 111.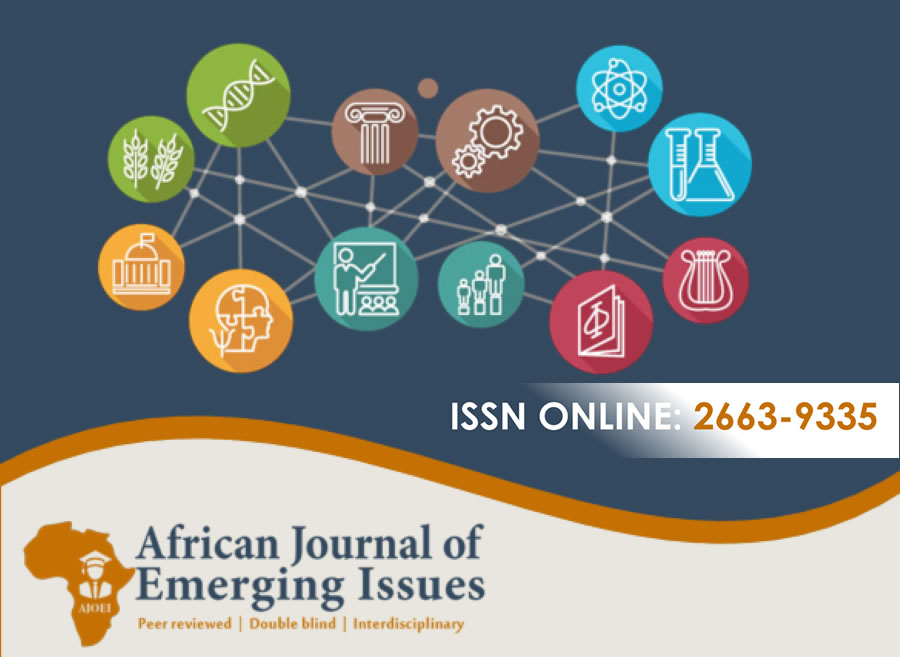 How to Cite
Chuc, A. A.-M., Atayah, A. A., & Özer, S. Q. (2023). IMPACT OF FINANCIAL TECHNOLOGY (FINTECH) ON FINANCIAL PERFORMANCE OF MICRO FINANCE INSTITUTIONS IN BAHRAIN. African Journal of Emerging Issues, 5(17), 1 -11. Retrieved from https://ajoeijournals.org/sys/index.php/ajoei/article/view/506