MODERATING ROLE OF DECISION MAKING ON THE RELATIONSHIP BETWEEN MANAGERS' COMPREHENSION OF EXTERNAL ENVIRONMENT AND PERFORMANCE OF SMALL AND MEDIUM ENTERPRISES IN KINSHASA, DEMOCRATIC REPUBLIC OF CONGO
Nongolola Kasanga Junior

Kenya Methodist University

Thomas Anyanje Senaji

Kenya Methodist University

George Kinoti King'oriah

Kenya Methodist University
Abstract
Purpose of the Study: The main aim of the study was to assess the Moderating Role of Decision Making on the Relationship between Managers' Comprehension of External Environment and Performance of Small and Medium Enterprises in Kinshasa, Democratic Republic of Congo.
Statement of the Problem: Strategy is concerned with the relationship between an organisation and its environment hence the need for managers to be aware of the environment in which they operate. However, empirical literature on the extent to which managers comprehend the external environment facing their organisations, how this relates with performance and how decision making affects this relationship is scarce.
Research Methodology: By adopting a positivist paradigm a descriptive survey cross-sectional of 520 SMEs managers in Kinshasa was conducted to ascertain the moderating role of decision making on the relationship between managers' comprehension of external environment (political, economic, socio-cultural, legal and technological factors) and performance of SMEs. Primary data was collected using structured questionnaire. The data was coded and analyzed with the SPSS version 23 program.
Results:  It was found that intuitive decisions were being made more than rational ones by the SME managers and that intuitive decision making was more strongly related with performance than rational decision making was. Further, as a moderator, intuitive decision making increased the strength of the relationship between comprehension of external environment and performance.
Conclusion: The study concluded that decision making moderates the relationship between manager's comprehension of external environment and performance of SMEs in Kinshasa.
Recommendation: It was recommended that, management should always ensure them assess all the factors that are likely to affect their business before making decision and once decision is made it should be communicated to all the employees.
Key words: Intuitive, Rational, Decision making, External environment, Performance.
References
Barakat, M. R., Elgazzar, S. H., & Hanafy, K. M. (2016). Impact of macroeconomic variables on stock markets: Evidence from emerging markets. International journal of economics and finance, 8(1), 195-207.

Cabantous, L., & Gond, J. P. (2016). Rational decision making as performative praxis: Explaining rationality's Éternel Retour. Organization science, 22(3), 573-586.

Calabrese, M., Iandolo, F., Caputo, F., & Sarno, D. (2018). From mechanical to cognitive view: The changes of decision making in business environment. In Social Dynamics in a Systems Perspective (pp. 223-240). Springer, Cham.

Camuffo, A., Cordova, A., Gambardella, A., & Spina, C. (2019). A scientific approach to entrepreneurial decision making: Evidence from a randomized control trial. Journal of Management Science, 2(1), 12-32.

Carton, R. B., & Hofer, C. W. (2016). Measuring organizational performance: Metrics for entrepreneurship and strategic management research. Edward Elgar Publishing.

Griffis, S. E., Goldsby, T. J., Cooper, M., & Closs, D. J. (2017). Aligning logistics performance measures to the information needs of the firm. Journal of business logistics, 28(2), 35-56.

Hallak, R., Assaker, G., O'Connor, P., & Lee, C. (2018). Firm performance in the upscale restaurant sector: The effects of resilience, creative self-efficacy, innovation and industry experience. Journal of Retailing and Consumer Services, 40, 229-240.

Patel, V. K., Pieper, T. M., & Hair, J. F. (2016). Opportunities and challenges for family businesses pursuing global markets. In Thriving in a New World Economy (pp. 24-29). Springer, Cham.

Shibin, K. T., Dubey, R., Gunasekaran, A., Hazen, B., Roubaud, D., Gupta, S., & Foropon, C. (2017). Examining sustainable supply chain management of SMEs using resource based view and institutional theory. Annals of Operations Research, 4(5),1-26.

Takahashi, A. R. W., Bulgacov, S., Bitencourt, C. C., & Kaynak, H. (2017). Expanding the dynamic capabilities view: Special contributions. Revista de Administração de Empresas, 57(3), 209-214.

Talaulicar, T., Grundei, J., & Werder, A. V. (2017). Strategic decision making in start-ups: The effect of top management team organization and processes on speed and comprehensiveness. Journal of Business Venturing, 20(4), 519-541.

Zhao, R., & Zhang, X. (2019, May). Analysis of Investment Decisions of SMEs. In 2019 International Conference on Management, Education Technology and Economics (ICMETE 2019). Atlantis Press.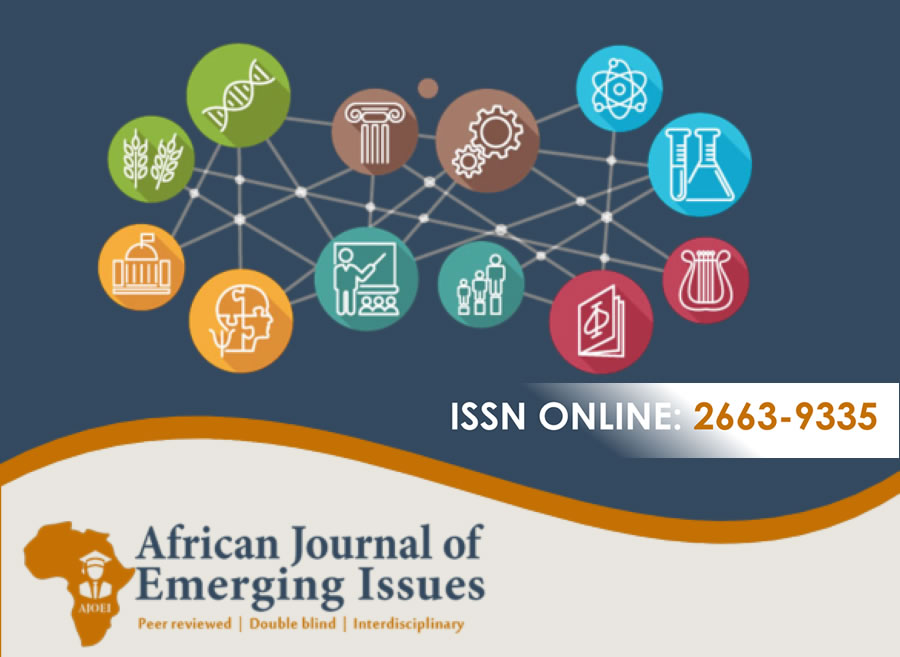 How to Cite
Junior, N. K., Senaji , T. A., & King'oriah, G. K. (2020). MODERATING ROLE OF DECISION MAKING ON THE RELATIONSHIP BETWEEN MANAGERS' COMPREHENSION OF EXTERNAL ENVIRONMENT AND PERFORMANCE OF SMALL AND MEDIUM ENTERPRISES IN KINSHASA, DEMOCRATIC REPUBLIC OF CONGO. African Journal of Emerging Issues, 2(1), 24-35. Retrieved from https://ajoeijournals.org/sys/index.php/ajoei/article/view/77