VISUAL ARTS AND TECHNICAL UNITS AT CROSSROADS: THE WOES OF LOW STUDENT-TEACHER INTAKE IN BAGABAGA COLLEGE OF EDUCATION, TAMALE
Mumuni Zakaria Fusheini

Bagabaga College of Education

Adams Abudi

Bagabaga College of Education

Mohammed Jamal Mohammed

Bagabaga College of Education

Jabiru Hussein

Bagabaga College of Education
Abstract
Purpose of the Study: The study investigated the causes of low student teacher intake into the Visual Arts and Technical Units of the Vocational and Technical Department of Bagabaga College of Education in Tamale.
Statement of the Problem: It is unfortunate that the intake of student teachers into the Visual and Technical Units has been appalling since 2018 when the degree program started. The number of intakes keeps on decreasing in these two units year by year and it was therefore necessary to dig into the root cause of the low intake of student teachers into the units.
Research Methodology:  A sample of 200 students and 20 teachers were taken for the study from three Senior High Schools as well as one Technical Institute and one Technical College of Education. The study adopted mixed method approach and made use of survey questionnaires and oral interviews in soliciting the views of students, student teachers, teachers and tutors on issues about Vocational and Technical Education and Training. The qualitative data gathered were assembled and analyzed using statistics, diagrams and scales while the qualitative data gathered were thematically and content analyzed.
Research Findings: The findings pertaining to the causes of low Visual and Technical students' intake into Bagabaga College of Education showed that most students did not obtain credits or better in the core subjects but had excellent and credit grades in the elective subjects. This proved that Vocational and Technical students from the second circle institutions do well in their electives than the core subjects. Another cause emerged from the fact that BECE candidates who obtained good grades do not choose Visual Arts or Technical to study in the Senior High Schools. This was noted to be as a result of some negative perceptions attached to Vocational and Technical Education and Training in Ghana.
Keywords: Student-teachers, Visual Arts, Technical, Virtual, Online, Practicals
References
Adedeji, S. O. & Olaniyan, O. (2011). Improving the conditions of teachers and teaching in rural schools across African countries. UNESCO. https://teachertaskforce.org/sites/default/files/2020-07/improving_conditions.pdf
Adinyira, S. K. (2012). Perceptions and attitudes about the Senior High School visual arts program and otheir influence on the students in Kumasi Metropolis (Master's thesis, Nkrumah University of Science and Technology, Kumasi, Ghana). KNUST Space. http://ir.knust.edu.gh/handlee/123456789/5734
Adiza. P. B., Agyeman, F & Anndrews, A. (2020). Computerised school selection and placement system in Ghana: Challenges and the way forward. European Journal of Educational Science, 7(2), 1857-6036. https://www.researchgate.net/publication/342510084_Computerised_School_ Selection and_Placement_Systems_in_Ghana_Challenges_and_The_Way_Forward
Agyir, F. O. P. (2020). Parental characteristics and career decisions among Senior High School students in Kwahu-East District. Journal of Humanities and Social Science (IOSR-JHSS), 25, 49-65. DOI:109790/0837
Aidoo. J. B. K. (2018). Challenges facing Visual Arts program in Senior High Schools in Ghana. International Journal of Humanities, Social Sciences and Education, 5, 136-142. http://dx.doi.or/10.20431/2349.0381.0503014
Amedorme, S. K. & Fiagbe, Y. A. K. (2013). Challenges facing technical education in Ghana. International Journal of Scientific and Technical Research, 2(6), 253-255. https://ghanaskills.org/sites/default/files/2017-04/Challenges-Facing-Technical-And-Vocational-Education-In-Ghana.pdf
Anamuah - Mensah, J. (2004). Vocational / Technological Education for Accelerated Wealth Creation: Critical Issues Facing the Nation. Paper presented at the 56th New Year School Conference organised by the Institute of Adult Education at the University of Ghana, 30 December 2004.
Artwatch Ghana (2017). The state of Creative Arts in Ghana. https://www.newsghana.com.ghwp-content/uploads/2017/04/THE-STATE-OF-CREATIVE-ARTS-IN -GHANA-final.pdf
Asihene, G. (2009). The role of core subject teachers in the academic performance of visual arts students in Ghanaian Senior High School [Master's Thesis], Kwame Nkrumah University of Science and Technology, Kumasi, Ghana. File"///C:/Users/Lenovo/Downloads/595-Article%20Text-1078-1-10-20201231.pdf
Bagabaga College of Education (2021, June 5). Academic Board Meeting, Departmental File. Department of Research and Publications, BACE.
Banson, F. (2010). A comparative study of practical skills development in textiles and general knowledge in art in selected schools in Ashanti and Brong-Ahafo Regions of Ghana. Master's Thesis. Kwame Nkrumah University of Science and Technology, Kumasi, Ghana.
Bohumira, L., Hlado, P. & Hlouskova, L. 92019). Perception of teacher support by students in vocational education and its associations with career adaptability and other variables. Psychology in Russia: State of the Art, 12, 47-64. DOI:10.11621/pir.2019.0403
Christiana, B. (2012). Restructuring vocational and technical education in Ghana: The role of leadership development. International Journal of Humanities and Social Science, 2(4), 108-114
Dasmani, A. (2011). Challenges facing technical institute graduates in practical skills acquisition in the Upper East Region of Ghana. Asia-Pacific Journal of Cooperative Education, 12(2), 67-77. https://www.ijwil.org/files/APJCE_12_2_67_77.PDF
Evans-Solomon, F. & Opoku-Asare, N.A. (2011). Girls' motivation, participation and preference for visual arts subjects in four senior high schools in Central Region, Ghana. Journal of Science and Technology, 31(3), 118-128. DOI:10.4314/JUST.V31I3.13
Fusheini, M. Z. (2020). The choice of Visual Arts option: Perceptions of newly admitted JHS 1 students at Bagabaga College of Education Model School, Tamale-Ghana. ADRRI Journal of Arts and Sicial Sciences, 17(1), 65-85. https://journals.adrri.org/index.php/adrrijass/article/view/595/539
Fusheini, M. Z. & Musah, B. (2017). Materials and methods for producing basic instructional support resources for teaching Creative Arts in Zohe Evangelical Presbyterian Primary School, Yendi-Ghana. Journal of Education and Practice, 8(34), 83-96. https://www.iiste. /Journals/index.php/JEP/article/view/40400
GHADMIN (2020). How WAEC is grading 2021 NABTEX exams. https://ghadmissionforms.com/2020/08/13/how-waec-is-grading-2020-nabtex-exams/
GNAT & TEWU (2009). Teacher attrition in Ghana. https://download.ei-ie.org/Docs/WebDpot/GNAT_2020_TEACHER-ATTRITION_REPORT.pdf
Issah, A. (2019). A guide to teaching first-year Basic Design and Technology in Junior High Schools in Ghana. European Journal of Education Studies, 6, 117-160. DOI:10.5281/zenodo.2735068.
Jacob, J. S. & Gwany, D. M. (2020). Teachers' pedagogical content knowledge and students' academic achievement: A theoretical overview. Journal of Global Research in Education and Social Science, 14(2), 14-44. https://www.researchgate.net/publication/332012586_PARENTAL_INFLUENCE-ON_CAREER_CHOICE_OF_THEIR_CHILDREN_LITERATURE_REVIEW
Kassah, K. J & Kemevor, A. K. (2016). The challenges of visual arts education in Ghana's colleges of education. International Journal of Scientific Engineering and Applied Science (IJSEAS), 2(3), 87-98. http://ijseas.com/volume2/v2i3/ijseas20160313.pdf
Nawabi, S., Javed, M. Q., Shujaulla, S. & Ulfat, H. (2019). Parental influence on career choice of their children: Literature Review. Journal of Advanced Research (IJAR), 7(3), 221-227. DOI: 1021474/IJARO1/8625.
Opoku-Asare, N. A.; Tachie-Menson, A. & Ampeh, G. K. (2015). Instructional strategies for effective teaching and learning of Creative Arts: The dilemma of generalist teachers in Ghana. Global Journal of Human-Social Science: A Arts & Humanities-Psychology, 15(5), 7-16. https://globaljournals.org/GJHSS_Volume15/2-Instructional-Strategies-for-Effective-Teaching.pdf
Salifu, I. (2014). Barriers to teacher motivation for professional practice in the Ghana Education Service. Policy Future in Education, 12(5), 718-729. https://journals.sagepub.com/doi/pdf/10.2304/pfie.2014.12.5.718
Selassie, A. R. (2018, September 19). GES computerized school placement and corruption: An educational sector bubble prepare to burst. Modern Ghana. https://www.modernghana.com/news/956061/ges-computerized-school-placement-and-corruption.html
Shellenbarger, S. (2006). New Directions: Fewer parents encourage kids to follow in their career footsteps. The Wall Street Journal Newsletter. https://www.wsj.com/articles/
Siaw, A.O. (2009). Comparative study of teaching and learning processes of the visual arts in selected senior high schools in urban and rural settings in Ashanti Region, Ghana. Master's Thesis. Kwame Nkrumah University of Science and Technology, Kumasi, Ghana. http://ir.knust.edu.gh/xmlui/handle/123456789/395?show=full
Tillman, K. (2015). Parental influence on college students' career aspirations. (University Honors Thesis, Georgia Southern University, Georgia). https://digitalcommons.georgiasouthern.edu/cgi/viewcontent.cgi?article=1092&context=honors-theses
Umeano, E. C., Onyishi, C, N., Adimora, D. E. & Onah, U. H. (2019). Teachers' expertise and students' learning outcomes in Secondary Schools in Enugu State, Nigeria. Journal of Nigerian Academic of Education, 15(1), 315-330. file:///C:/Users/Lenovo/Downloads/1326-1996-1-PB.pdf
Wesley-Otoo, E. & Anokye, K. (2016, May 31). CSSPS: Successes, challenges and the way forward. Graphic Online. https://www.graphic.com.gh/features/opinion/cssps-successes-challenges-and-the-way-forward.html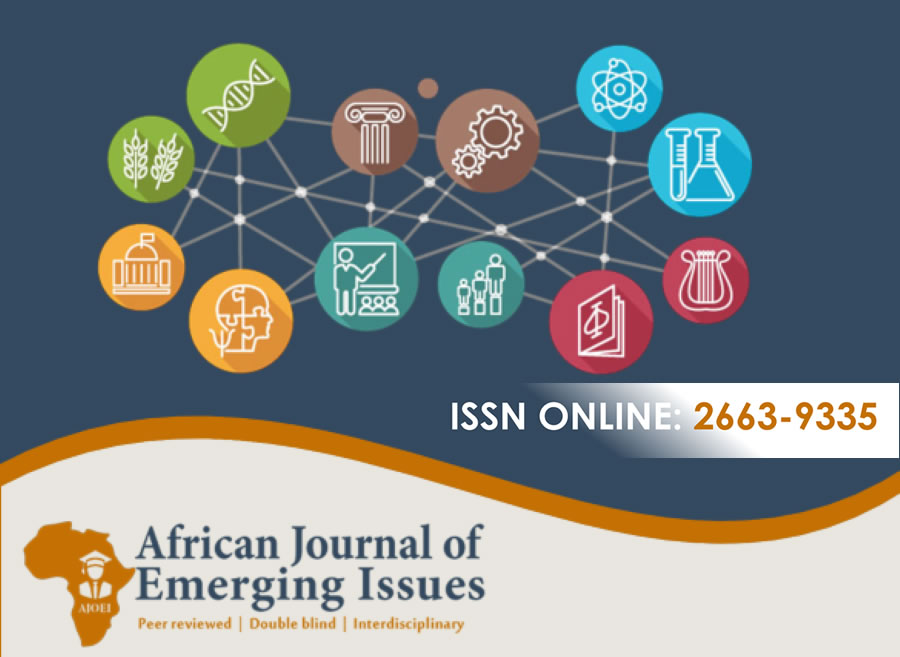 How to Cite
Fusheini , M. Z., Abudi, A., Mohammed, M. J., & Hussein, J. (2021). VISUAL ARTS AND TECHNICAL UNITS AT CROSSROADS: THE WOES OF LOW STUDENT-TEACHER INTAKE IN BAGABAGA COLLEGE OF EDUCATION, TAMALE. African Journal of Emerging Issues, 3(8), 63-76. Retrieved from https://ajoeijournals.org/sys/index.php/ajoei/article/view/225